http://www.cbsnews.com/video/watch/?id=7403942n&tag=segementExtraScroller%3Bhousing
The man who raised a black power salute at the 1968 Olympic Games
When John Carlos raised his fist in a black power salute at the 1968 Olympics, it changed 20th-century history – and his own life – for ever. How does he feel about it now?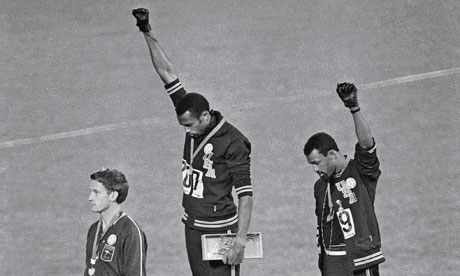 John Carlos (on right), Tommie Smith (centre) and Peter Norman, who wore an Olympic Project for Human Rights badge in support of their gesture. When he died in 2006, Carlos and Smith were pallbearers at his funeral. Photograph: AP
"In life, there's the beginning and the end," he says. "The beginning don't matter. The end don't matter. All that matters is what you do in between – whether you're prepared to do what it takes to make change. There has to be physical and material sacrifice. When all the dust settles and we're getting ready to play down for the ninth inning, the greatest reward is to know that you did your job when you were here on the planet."
For all its challenges, Carlos loves his job. "Being a counsellor, you have to talk to the children as though you're talking to a thousand people," he says. "Sometimes you say, 'I love you' and they say, 'I don't want your love' and you say, 'Well, it's out there, so you're going to have to deal with it.' And I learn a lot from them, too."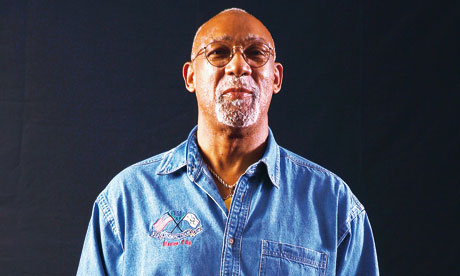 John Carlos: 'It's what I was born to do,' he says of his salute.
Photograph: Michael Steele/Getty Images
"The first thing I thought was the shackles have been broken," Carlos says, casting his mind back to how he felt in that moment. "And they won't ever be able to put shackles on John Carlos again. Because what had been done couldn't be taken back. Materially, some of us in the incarceration system are still literally in shackles. The greatest problem is we are afraid to offend our oppressors.
"I had a moral obligation to step up. Morality was a far greater force than the rules and regulations they had. God told the angels that day, 'Take a step back – I'm gonna have to do this myself.'"
"I know that sounds like a lot of thoughts for just a few moments standing on a podium," he writes. "But honestly this was all zigzagging through my brain like lightning bolts."
It was also a moment of silence. "You could have heard a frog piss on cotton. There's something awful about hearing 50,000 people go silent, like being in the eye of a hurricane."
And then came the storm. First boos. Then insults and worse. People throwing things and screaming racist abuse. "Niggers need to go back to Africa!" and, "I can't believe this is how you niggers treat us after we let you run in our games."
"The fire was all around me," Carlos recalls. The IOC president ordered Smith and Carlos to be suspended from the US team and the Olympic village. Time magazine showed the Olympic logo with the words Angrier, Nastier, Uglier, instead of Faster, Higher, Stronger. The LA Times accused them of engaging in a "Nazi-like salute".
Martin Luther King had been assassinated and the US had been plunged into yet another year of race riots in its urban centres. Just a few months earlier, the Democratic party convention had been disrupted by a huge police riot against Vietnam protesters. A few weeks before the Games, scores of students and activists had been gunned down by authorities in Mexico City itself.
The sight of two black athletes in open rebellion on the international stage sent a message to both America and the world. At home, this brazen disdain for the tropes of American patriotism – flag and anthem – shifted dissidence from the periphery of American life to primetime television in a single gesture, while revealing what DuBois once termed the "essential two-ness" of the black American condition. "An American, a Negro; two souls, two thoughts, two unreconciled strivings; two warring ideals in one dark body, whose dogged strength alone keeps it from being torn asunder."
Carlos understood, before he raised his fist that day, that once done, his act could not be taken back. What he could not have anticipated, at the age of 23, was what it would mean for his future. "I had no idea the moment on the medal stand would be frozen for all time. I had no idea what we'd face. I didn't know or appreciate, at that precise moment, that the entire trajectory of our young lives had just irrevocably changed."
The trouble was, in the years before lucrative sponsorship deals, running didn't pay and few would employ him. In the years immediately following his protest, he worked security at a nightclub and as a janitor. At one point he had to chop up his furniture so he could heat his house. The pressure started to bear down on his family. "When there's a lack of money, it brings contempt into the family," he says. Moreover, his wife was facing constant harassment from the press and his children were being told at school that their father was a traitor. The marriage collapsed.
He tried American football for a few seasons, starting in Philadelphia, then moving north to Toronto and Montreal. He is keen to emphasise that the one thing that never happened, despite claims to the contrary, is that he had his medal confiscated. It's at his mother's house. And while he does not cherish it as you'd expect an Olympian might, he's adamant that this part of the story is set straight. "The medal didn't mean shit to me. It doesn't mean anything now… The medal had no relevance. The one way it had relevance was that I earned it. So they never took my medal away from me. I'd earned it. They can't take it."
As time passed and the backlash subsided, Carlos was gradually invited back into the fold. He became involved as an outreach co-ordinator in the organising committee for the group bringing the Olympics to Los Angeles in 1984 and worked for the US Olympic Committee.
Did he worry, as the picture for which he was famous started to adorn T-shirts and posters, that his readmission into the Olympic world meant his radicalism was being co-opted and sanitised? "The image is still there," he says proudly. "It keeps getting wider. If you look at the images of the last century, there's nothing much like it out there. And 'the man' wasn't the one that kept this thing afloat for 43 years. The man was the same man whupping my arse. And the Olympics are part of my history. I'm not going to run away from that."
Carlos remains politically engaged. Late last year he addressed Occupy Wall Street protesters in New York. "It's the same fight as it was 43 years ago. We fought unemployment; for housing, education. It's the same thing as people are fighting for today."
Carlos has no such regrets. He's just glad he could be where he was to do what he felt he had to do. "I don't have any misgivings about it being frozen in time. It's a beacon for a lot of people around the world. So many people find inspiration in that portrait. That's what I was born for."