Fifty years since the Watts riots kickstarted his experimental spoken word group, poet and proto-rapper Otis O'Solomon reflects on the anger that drove thousands to the streets – and whether anything has changed
Forged from fire … Otis O'Solomon in the Watts Coffee House, Watts, Los Angeles, 29 November 2015. Photograph: Dan Tuffs for the Guardian
"The truth never spoils," says Otis O'Solomon. You wouldn't immediately assume this bushy haired, wily looking man who has just turned 76 has anything to do with hip-hop, but as a poet and artist, he is the forefather of NWA, Public Enemy and Kendrick Lamar.
O'Solomon sits in the Watts Coffee House, a popular meeting place in LA's historic black enclave. A vinyl copy of When the 90s Came, the 1997 music and spoken-word album he recorded as part of the Watts Prophets, is proudly displayed at the front of the restaurant. It was in this neighbourhood, in the wake of a major riot, that he forged poetry that created the template for the rap phenomenon that was to follow.
This year will be the 50th anniversary of the Watts rebellion. Black neighbourhoods burned for six days in August 1965, in response to the arrest of Watts residents Marquette Frye, his brother Ronald and their mother Rena Price. After 21-year-old Marquette was pulled over for drink-driving, a minor argument turned into a police fracas, witnessed by a crowd of angry residents.
The incident grew to mythic proportions – some said Price was pregnant, others that the police started the fight – and the rising anger led to demonstrations, stores being destroyed, and attacks on passing motorists. At its height, 7,500 people took to the streets; 34 people died, 1,032 were injured and around 600 buildings were damaged. The drama drew attention to the de facto segregation and heavy handed police tactics that African Americans suffered throughout the US.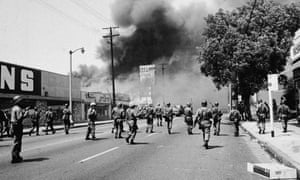 O'Solomon's memory of those days and nights of turmoil are still vivid. He was living near the University of Southern California, about eight miles north of Watts. "For about two weeks prior, I kept thinking, 'Something is happening. Something is happening.' Then the rebellion came and I realised that was connected to what I was feeling."
He recalls national guard trucks rumbling down Vermont Avenue, near his home, out to enforce a curfew. "As far as you could see in either direction, there were no people. There was nothing," he says. "Later, it became a tourist thing. A lot of whites would drive by looking at the buildings that had burned."
Afterwards, O'Solomon moved to Watts and took full advantage of the creative energy that followed the crisis. It was there that he met Amde Hamilton and Richard A Dedeaux and their shared love of poetry and political activism led them to create the Watts Prophets poetry group. The struggle of the residents of Watts was turned into magnificent, memorable art – albums of poetry spoken over a backdrop of music.
It was with their 1969 album, The Black Voices: On the Streets in Watts, that O'Solomon and the Prophets enjoyed their greatest success. Poems with names such as They Shot Him and Saint America swell with righteous anger and frustration. The words are unvarnished – a direct, profane call to wake up to the realities of inequality in the ghetto: "Whatever keeps you from screaming out at this very moment in absolute and sheer horror … Whatever that is, it's a lie."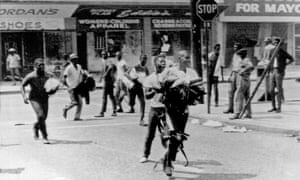 The music is discordant and chaotic, but hypnotic, and you can see the throughline from The Black Voices to Straight Outta Compton – the confrontational rhetoric, the vivid street reporting, the harsh language. Kendrick Lamar's latest album To Pimp a Butterfly – with his deft combination of jazz riffs and radical wordplay – feels carved from the same stuff. "There's a kind of rhythmic thing," says O'Solomon, about black American traditions of music and poetry. "It's highly spiritual. Even when the slaves would sing certain songs, there was such a soul in it. It was penetrating."
The attention paid to Watts in the months and years following the riots gave the Prophets the opportunity to tour the world – they even opened for Richard Pryor. Today, the anniversary is bringing their work to a new audience. In 2014, Rolling Stone named The Black Voices one of the 40 most influential albums of all time.
O'Solomon, who is performing his poetry in London on Saturday, now lives in Inglewood – he tells me he hadn't been back to Watts in years and the neighbourhood he left has changed significantly since his last visit. According to the Los Angeles Times, what was once the centre of African American culture in the region is now 70% Hispanic. Nearby areas such as Leimert Park and Baldwin Hills have become home to many upwardly mobile black Angelenos.
Watts remains a community struggling with poverty, but there are some signs of renewal – grocery stores where there were none and improved public transport. The way O'Solomon remembers it, there was no bus service to Watts in the 1960s. "Watts had less of everything. Less TVs, less access."
The Watts rebellion still holds great significance for residents, especially in the wake of recent incidents involving white police officers gunning down unarmed young black people, and the rise of the Black Lives Matter movement. I ask O'Solomon what he thinks has led to the current tensions. "I think if you're accustomed to having certain things, a certain status, whether you've earned it or not, if you find out you're going to lose it – it's not that you're going to have less than your fair share, it's that you're not going to have other people's share. For a lot of white males especially, it's tough."
The same fears and frustrations exist on both sides of the racial divide, but O'Solomon is optimistic. "When people say racism will never go away, I don't believe that." The gains black Americans have made in the past half-decade have kept him going, he says – from Barack Obama to the embrace of hip-hop by popular culture: "I'm a lot more free than I used to be."
source:  .https://www.theguardian.com/music/2015/dec/09/otis-osolomon-watts-prophets-hip-hop-riots-poetry