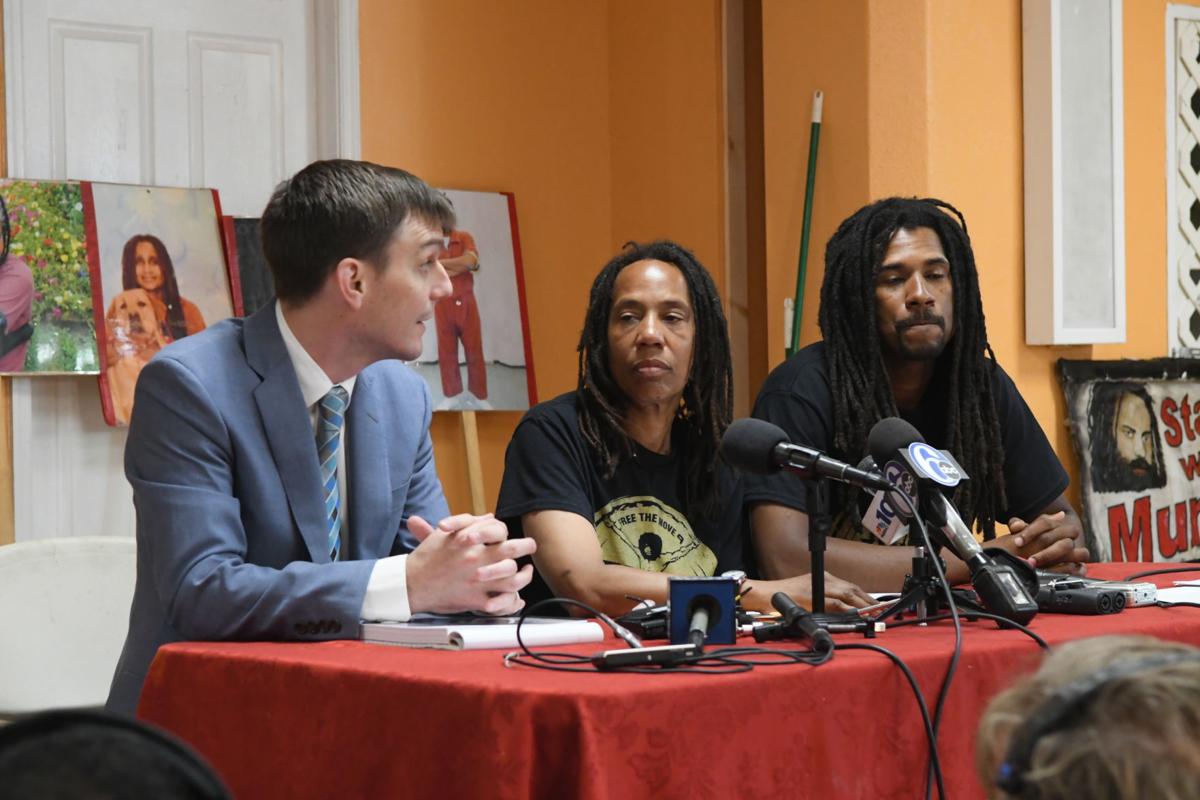 Seated alongside a son she gave birth to while in prison who was holding her grand daughter, MOVE member Debbie Africa addressed the public for the first time after serving almost 40 years in prison.
"I still don't actually think I'm caught up with my emotions and how happy it makes me feel," Africa, speaking at a press conference Tuesday at the Faith Immanuel Lutheran Church, said. "It makes feel happy being with my family. But while I'm happy I still feel incomplete because my sisters were not released with me."
Africa, 62, is the first member of MOVE convicted of third-degree murder charges in connection with the shooting death of police officer James Ramp during an infamous Aug. 8, 1978 shootout at the group's old Powelton Village headquarters to be released from Prison, 39 years, 10 months after beginning her sentence. She was released on Saturday.
Africa and the nine other adult members of the group were sentenced to 30 to 100 years in prison. Denied parole eight times before she was finally granted her freedom this past May, Africa must wear an ankle bracelet for the next six months as part of her parole arrangement.
On Tuesday, she expressed disappointment that two other members of the group who were convicted of the exact same crime, Janet and Janine Africa, were not paroled. Both went before the state parole board on the same day as Debbie Africa.
"The circumstances between the three are remarkably similar, and the facts in the record which the parole board considered were remarkably similar between the three of them," said attorney Brad Thomson, who represents all three. "Based on the statue they made the correct decision for Debbi. Following that same legal analysis, they should have come to the same conclusion regarding Janet and Janine. There is no rational justification to keep any member of the MOVE 9 in prison."
Two members of the MOVE 9 have died while in prison. Four other MOVE members are eligible for parole later this year. This includes Chuck Africa, the father of Debbi Africa's son, Michael. All members of the MOVE 9 have been eligible for parole since 2008. All have been repeatedly denied parole in all of their previous appearances before the parole board.
"It's a small victory but it's a victory nonetheless," Michael Africa said. "My father and the rest of my family members are still in priso
source:http://www.phillytrib.com/news/move-s-debbie-africa-speaks/article_719a8b84-4031-56b3-a309-3bdbf061489a.html